Milken Art Show Spotlight Artists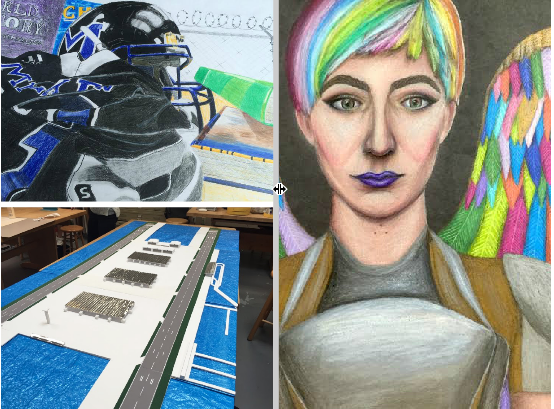 Jordan Brenner
Staff Writer
The Milken art show is a highly anticipated and well regarded annual event that shows off some of the bright talent at this school. The show was held from May 18th through May 20th in the Hollinder Gymnasium and featured inspired paintings, architecture models, photography, and much more. Each year, teachers, students and parents are especially inspired by some of the pieces the show has to offer. Three students, Kyle Goldman, 17, Maddie Friedman, 16, and Eli Seltzer, 17 were some of the popular destinations for guests at the show. The combination of uniqueness and beauty in their work attracted attention.
Kyle Goldman, 17:
Kyle Goldman, who pursued art long before his tenure at Milken, rediscovered his love for the activity this year. Goldman's piece (pictured below) represents his thoughts towards his workload at school, and his main passion, football. Goldman said, "I love football, but I feel like I am in a cage due to academics, hence the wall of books and barbed wire around the jersey and helmet. For this piece, Kyle used colored pencils and blended colors together to enhance the illustration. Goldman hopes to further his passion for art throughout high school.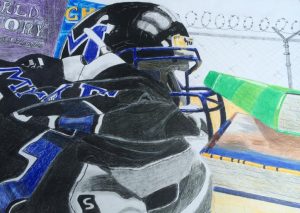 Maddie Friedman, 16:
Maddie Friedman, 16, was another artist who impressed the audience during the art show. Friedman talked about the fierce, but seemingly sweet vibe the drawing (pictured below) evokes. Friedman said, "I was watching a lot of fantasy TV shows at the time I drew this, so making her an angel came into mind." Friedman hopes to continue to thrive in art throughout high school, and possibly beyond Milken as well.

Eli Seltzer, 16:
Eli Seltzer, 16, built a model of an airport for architecture. Eli has always been fascinated with aircrafts and airports. Eli said, "Ever since I was little, I have been amazed by aviation and always wanted a career in aeronautical engineering. This piece morphs together my interests in architecture and aviation to make an airport that can accommodate the future of aviation." Eli started with the architecture program as a freshman, and plans to continue with the program next year, as a senior. Eli's work was a common destination for art show attendees due to it's large scale and unique subject.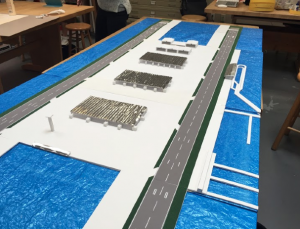 Leave a Comment