TEDxMilken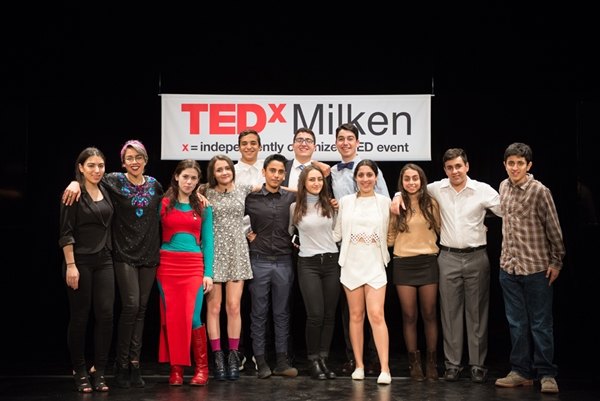 Jennifer Clemens
Staff Writer
Milken Community Schools just hosted its second annual TEDx. This event is created by students, for the students. TEDx Milken was put together by the students in the Leadership and Business Ethics classes where students develop skills that will allow them to be the next generation of leaders. This event presented students with the opportunity to share significant ideas, bringing students o, alumni, and Milken parents together.
The original TEDx event is a non-profit program dedicated to discussing ideas worth spreading. This program has expanded and now explores many world-changing ideas. The two annual TED conferences have had world leading thinkers speak about a variety of different topics.
So far, many successful individuals have come to speak at Milken's TEDx event. For example, Ben Maddahi, Milken alumni of 2001, spoke. Maddahi is currently the President of Artist Publishing Group, as well as the Vice-President of A&R for Artist Partners/Warner Music Group. He has also been nominated for two Grammy Awards, and has been listed on Billboard Magazine's "30 under 30" list of notable music executives. Another successful individual who spoke at the TEDx was Gordon Myers, a Milken alumni's parent. Myers has become a successful actor, teacher, author, entrepreneur, and father. Myers work mostly focuses on discussing issues that youth face today.
The TEDxMilken speakers showcased a variety of diverse topics at the event. From students with ambitious mindsets challenging worldwide problems, to students possessing YouTube channels based on teen advice, to other funny, and serious presentations, students surely covered the gamut. Overall, each aspect the students brought to the event embraced individuality.
Milken Junior Natalie Pashaie '16, was present at this event. Pashaie has recently been interested in world-wide problems, and wants to raise awareness for them. The topic she spoke about was human trafficking. She said that she "thinks the fact that Milken hosts a TED event is truly incredible. It gives students the opportunity to share ideas and passions on a platform shared with famous activists and politicians."
This TedxMilken event can be viewed here on Milken Livestream. http://www.milkenschool.org/page/TEDxMilken
Leave a Comment