Extreme Makeover: Library Edition

Sammy Behar
Staff Writer
Source: http://1callair.com/your-customer-is-our-responsibility-5/
BREAKING NEWS — Extreme Makeover: Home Edition is coming to Milken this Spring as part of the Milken branding re-design. Although the show was canceled back in 2012, this hasn't stopped Milken from submitting a proposal to the show's producers. After countless meetings and phone calls with ABC, Milken's administration has been able to persuade Extreme Makeover: Home Edition to come back for one last episode to redo Milken's library.
When David Kates, Milken Librarian, heard about the news, he said, "Between turning the lights off when it gets too noisy, and kicking kids out for Kehillah, it's been a hard ride. Having Extreme Makeover: Home Edition come in has made this whole crazy journey worth it to me."
Everyone is dying to know what the new design will include. Many teachers and students have put in their requests. Rumor has it that another Milken Mart will be opening up inside the library, as the ten second walk across the amphitheater is much too tiring for Milken students these days.
Milken's other Librarian, Tarince Tyler, voiced his concerns to the show's creators about how the Quiet Brigade will function after the remodel. While we at the Roar don't know much about the remodel, we do have an exclusive report on what Ty Pennington's secret project is. The show will be hiring people to work in the library full time, serving as the Quiet Brigade. Get ready for a lot of shushing, Milken!
http://powertochange.com/blogposts/2009/09/21/shushed-by-the-library/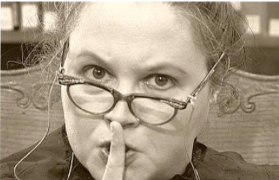 https://bluejaysway.wordpress.com/2010/04/02/better-than-being-flayed-to-death-with-abalone-shells-but-still/
Even with all the Purim Excitement, remember to tune into ABC next Thursday at 7 PM to see the big reveal, and get ready to start screaming, "Move that bus!"

Leave a Comment