Je Suis Charlie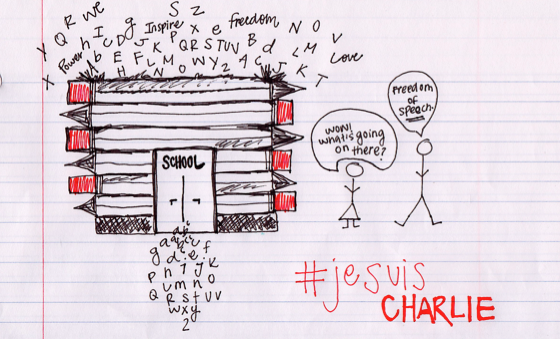 Gabi Kamran and Samantha Suman
Editors-in-Chief
For us journalists at the Roar, the shooting at the Charlie Hebdo newspaper resonates deeply. The act of terror was an unwarranted attack on free speech and public discourse, threatening the foundations of our pluralistic civilization. We do acknowledge, however, that free speech is a privilege and therefore has its limits. Satire and social commentary are welcome catalysts for a progressive and free thinking society, but in order to live in harmony, we must maintain cultural sensitivity and tolerance. The cartoons in Charlie Hebdo were offensive to some, but murder is a disproportionately extreme response to an expression of the human mind.
The Roar decided that instead of a formal article, cartoons would be a more appropriate way to express our grievance. Each member of our staff drew a cartoon revolving around the theme of freedom of speech in support of the Je Suis Charlie movement.

Je Suis Charlie. Nous Sommes Charlie.
Leave a Comment