Preparing for the big day: Fashion with Compassion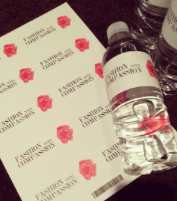 Jennifer Clemens
Staff Writer
The Roar is going to take you through the process of the annual Fashion with Compassion show.
Fashion with Compassion (FWC), a student-led organization here at Milken, has put on their 7th annual fashion show. This year, the show benefited the Israel Sports Center for the Disabled.
The meetings for FWC started over the summer, and after putting together the committee and planning for this annual event, the first step was to find the location. The co-chairs of Fashion with Compassion, Natallie Mashian '15 and Leila Aframian '15, decided on the Luxe Hotel on Sunset Boulevard as the perfect fit.
The second step was holding the modeling auditions. There was a Senior and Junior priority for casting, and the rest of the spots were given to the students with the most confidence. After holding the auditions, the committee chose about 80 models.
The fourth step for the FWC team was contacting clothing vendors and having fittings for the models. Vendors included BCBGeneration, Horseplay, Enter, Bella Dahl and Soto.
After the models were fitted for the clothes they would be walking in, after school rehearsals were held.
A few days before the show, the committee helped put together gift bags and other last minute decorations for the event.
Lastly, on the day of the show, the models' hair and makeup was professionally done by makeup artists from Napoleon Perdis and hairstylists from Jose Eber Salon. They then took to the runway and put on an amazing show.
Milken students who were a part of Fashion with Compassion describe it as the most amazing experience. "Being a part of Fashion with Compassion has been the most rewarding part of my time in high school," Mashian said.
We look forward to next year!
Leave a Comment