WildcatsLoveThis#4: Chanukah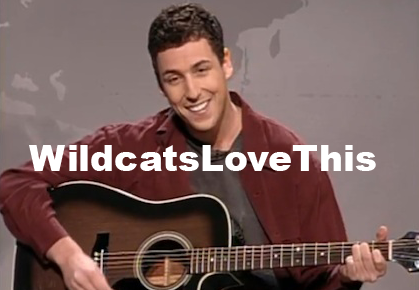 Wildcats Anonymous
Life Experts
In the words of our good friend Adam Sandler, "Put on your yarmulke, here comes Chanukah! So much funukah, to celebrate Chanukah!" (Click here for the Hanukkah Song)
Wildcats, it's the most נפלה time of year: Chanukah! Whether you'll be vacationing in either Mammoth or Vegas, I think we can all agree there's nothing quite like this holiday.
Freshly fried carbs? Bring it on. You get to choose between potato-carbs and donut-carbs- ! איזה יופי (Our #WorkoutClassWildcats might disagree, though.) If you're a junior or senior, freshmen will run away screaming as you make your way to the soofganiyot. We grant you permission to eat your feelings. Sophomores, make a headstart on your Tif 20 (possibly 30), regardless if you're going or not. And freshmen? You can have the apple sauce. Just the apple sauce.
You know what time of year it is when you spot the little blue and white Chanukah sections in supermarkets. Christmas shoppers get to choose from large assortments of gingerbread men, candy canes, peppermint bark, and chocolates shaped like Santa Claus. But don't fret! We Jews have waxy chocolate shaped like coins, wooden spinning tops, and candles… lots of candles. And how can we forget the soofganiot at Super Sal?! They bring that same level of excitement as seeing that one house on Candy Cane Lane with a giant dancing dreidle and blue lights. You guys know what we're talking about.
To all you savvy Wildcat shoppers, good job on getting those Black Friday and Cyber Monday deals on this year's presents. But let's be honest, we all know that Wildfox sweater from the sample sale isn't really for your cousin Sarah. Nice try. And no, you didn't need a pink Beats pill for your Tif dorm. With all the money you saved, what do you expect to find under your Chanukah bush this year, chevreh? Ugg boots? FreeCity sweats? A white BMW?We hope so…
Until next time, you know you love us… XOXO, Wildcats Anonymous
Leave a Comment