The Ultimate Chanukah Wishlist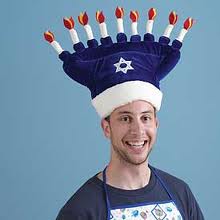 Britt Jacobson
Spotlight Editor
It's the time of donuts, dreidls and gifts: Chanukah! If you're not sure what to get all the mensches on your holiday gift list, here are eight funny products that are sure to brighten up someone's day during this year's Festival of Lights.
Wildfox Jewish Star SweaterThis supersoft and super-trendy sweater is a guaranteed winner as far as gifts go. Some people would describe this sweater as basic – that makes it a necessity, right?
Tipsy Elves Ugly Hannukah SweaterWhile everyone else is donning hideous holiday apparel, we Milkenites often feel left out in the cold. Our bubbies make us fried foods, not ugly sweaters! Thankfully, Tipsy Elves has given us a solution. Next time you get invited to an Ugly Holiday Sweater Party, be sure to liven it up with dancing menorahs.
Hannukah Flash Tattoos Flash tattoos were a big trend this past year, especially in the summer. Whether you'll be tanning poolside in Palm Springs or trying to soak up rays in Malibu this Winter Break,  wear the holiday spirit with glittery temporary tattoos.
Chanukah Onesie
 Going on a ski trip in Mammoth? When nighttime comes around, snuggle into this adorable unisex onesie. This is the perfect loungewear for sitting by the fire and devouring donuts.
Menorah Hat Schoolboy Q-esque bucket hats are pretty trendy, but we're sure this menorah hat is just as cool. Whether you're strolling around Century City or Topanga Mall, this hat will be sure to illicit stares- CAUSE YOU'LL LOOK SO COOL.
SocksNike socks? nah man, Chanukah socks.
Chanukah House Always wanted to make a gingerbread house but thought it was too Christmasy? This blue and white Chanukah House is delicious and Jewish! Chag sameach!
Mensch on a BenchBy now you've probably seen Elf on a Shelf… now there is Mensch on a Bench. You can put him on the mantle next to your Chanukah bush and blue and white stockings.
'Tis the season to be Jewy… challalalalala- lalalah!!
Leave a Comment