The Roar's 2014 Thanksgiving Compilation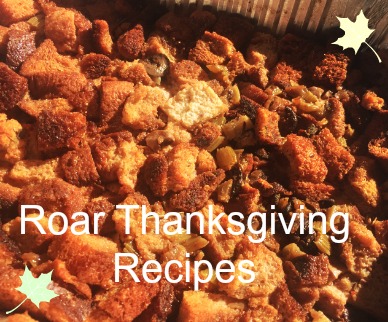 Leeat Elkayam
Creativity Director
Thanksgiving is the time of year where families to come together and think about who and what they are most thankful for. With that, there is a Thanksgiving meal filled with pumpkin pie, fall vegetables, and of course, turkey. This year the Roar has compiled a few of our favorite Thanksgiving recipes to share with everyone.
Martha Stewart's Roast Turkey with Brown Sugar and Mustard Glaze
Ingredients:
1 whole turkey (about 12 pounds), thawed if frozen, rinsed and patted dry (neck and giblets reserved, liver discarded)
Coarse salt and ground pepper
2 tablespoons butter, room temperature
1/2 cup packed light-brown sugar
1/4 cup spicy brown mustard (can also just be honey dijon mustard)
Procedure:
1. Preheat oven to 350 degrees with rack in lowest position. Place turkey on roasting rack set in a large roasting pan. Season inside of turkey with salt and pepper. Loosely fill neck and large cavity with dressing; fold skin over, and secure with skewers or trussing needles, if necessary. Bend wing tips forward, and tuck under neck cavity. Using kitchen twine, tie legs together securely. Rub turkey all over with butter; season with salt and pepper.
2. Add neck, giblets, and 3 cups water to roasting pan. Cover turkey loosely with aluminum foil. Roast 1 hour, and then baste with pan juices every 30 minutes, until an instant-read thermometer inserted in thickest part of a thigh (avoiding bone) registers 125 degrees, 1 to 2 hours more.
3. Remove foil; increase heat to 400 degrees. In a small bowl, stir together sugar and mustard; brush turkey with glaze. Rotate pan, and continue to roast turkey, brushing with glaze 2 to 3 more times, until thermometer registers 165 degrees, 45 minutes to 1 hour more (tent with buttered foil if browning too quickly; add more water if pan becomes dry).
4. Transfer turkey to a platter; reserve pan with drippings for gravy (opposite). Cover turkey loosely with foil, and let rest at least 30 minutes (or up to 1 hour). Before serving, remove dressing, and carve.
"This is probably the juiciest turkey recipe I have ever tried and used. Plus, it is really easy to make." Leeat Elkayam '15
Michele's Crispy Brussel Sprouts with Dates and Mustard Vinaigrette
Procedure:
Preheat oven to 450 degrees Fahrenheit
2 packets of Brussels sprouts (about one to 1.5 pounds
Cut in half, or quarters if very large
Toss with oil salt pepper and a few sprigs of thyme
Roast until brown and crispy
Cook for about 20-30 minutes, checking and moving them around often to prevent burning
During last five minutes, add two handfuls of medjool dates, pitted and quartered
Allow to cook for five more minutes
Bring out of oven
Toss with desired amount of vinaigrette:
Vinaigrette:
3 tbs sherry or balsamic vinegar
1 tbs Dijon mustard
1 tbs honey
1 handful of mint or parsley, chopped
About 6 tbs olive oil
Salt and pepper
Zest of one lemon
"Even if you don't like brussel sprouts, you will become obsessed with this flavorful recipe." Natalie Pashaie '16
Joelle's Stuffing Recipe
Ingredients:
1 loaf of sourdough bread
4 garlic cloves
4 celery ribs
1 large brown onion
1 can of pitted black olives
2 cups of chopped fresh mushrooms
1 spring of fresh rosemary
½ teaspoon of crushed red pepper
Olive oil
Procedure:
Cut sourdough bread into 1-inch cubes
Lay them on a baking pan
Add chopped rosemary spring
Toss all with olive oil
Bake until crisp
While bread is baking, chop onion, garlic, celery, olives, and mushrooms
Sautee all ingredients in olive oil until translucent and soft
Once bread is crisp, and ingredients sautéed, mix all and add spices for falvoring
Put all into a greased baking pan, add two cups of chicken broth.
Cover and bake for 50 minutes at 325 degrees until all liquid evaporates
"When my mom makes the stuffing, she uses fresh ingredients like herbs from our backyard, which is really nice." Britt Jacobson '17
Food Network's Twice Baked Potatoes Recipe
Ingredients:
12 new potatoes
2 tablespoons of olive oil
1.5 cups grated monterey jack cheese
4 ounces cream cheese, softened
½ cup sour cream
1 tablespoon finely minced fresh chives
1 clove garlic, pressed
Salt and pepper
Procedure:
Preheat the oven to 375 degrees F.
Drizzle the potatoes with the olive oil and toss them to coat. Roast until the potatoes are tender and the skin is slightly crisp, 20 to 25 minutes.
Use a spoon or small scoop to remove the insides, leaving a small margin of potato intact.
To the scooped out potatoes, add the Monterey Jack, cream cheese, sour cream, chives, garlic, and salt and pepper to taste. Mash until the mixture is totally smooth. Give it a taste and add more salt if necessary.
Scoop the mixture into the potato shells. At this point you can cover and refrigerate them until dinnertime. When you're ready, bake the potatoes in the oven until golden brown on top.
"I'm trying out this recipe for the first time this year, so I hope it all goes well!" Gabi Kamran '15
Fresh Cranberry Sauce Recipe
Ingredients:
1 pack of fresh organic cranberries
1 cup fresh squeezed orange juice
Zest of 1 orange
2 tablespoons of honey
Cinnamon (optional)
Procedure:
Pour all ingredients into a sauce pan
Bring to a boil and simmer until all cranberries are fully cooked and lose their shape
"It's not too sweet and the right amount of tart. It also tastes better than anything store bought." Britt Jacobson '17
Mama Tamkin's Family Jello Mold Recipe
Ingredients:
1 large box black cherry jello
2 cups boiling water
1 lb. can whole cranberry sauce
1 – 8oz. Tidbits pineapple, undrained
2 drops mint extract
1/2 cup pecans, chopped
1 pt. sour cream
Procedure:
Dissolve jello in bowl.
Stir in cranberry sauce.
Add other items and pour into jello mold.
Then drop spoonfuls of sour cream around top of mold, cover with plastic wrap and refrigerate until set.
"What's not to like about a Jello mold? The Jello gives it a mushy feeling, but the pineapple and pecans in it give it a nice crunch. I love the mix of textures that it has and it's my favorite part of Thanksgiving." Shayne Tamkin '15
Barefoot Contessa's Ultimate Pumpkin Pie (with Optional Rum Whipped Cream)
Ingredients:
1 unbaked Perfect Pie Crust
Dried beans for blind baking
Filling:
1 (15-ounce) can pumpkin puree (not pie filling)
½ cup light brown sugar, lightly packed
¼ cup granulated sugar
½ teaspoon ground cinnamon
¼ teaspoon ground ginger
¼ teaspoon ground nutmeg
½ teaspoon kosher salt
2 teaspoons grated orange zest
3 extra-large eggs, lightly beaten
1 cup heavy cream
1/2 cup whole milk
Procedure:
Preheat the oven to 425 degrees.
Line an 11-inch pie pan with the unbaked pie crust and place it on a sheet pan. Line the crust with parchment paper. Fill the paper three-quarters full with the beans and bake the crust for 15 minutes, until the edges start to brown. Remove the beans and paper (save the beans for another time), prick the crust all over with the tines of a fork, and bake for another 5 minutes.
Reduce the oven temperature to 350 degrees.
Meanwhile, in a large bowl, whisk together the pumpkin, brown sugar, granulated sugar, cinnamon, ginger, nutmeg, salt, orange zest, eggs, cream, milk, and rum. Pour the filling into the baked pie shell. Bake for 55 to 65 minutes, until the filling is just set in the middle and knife inserted in the center comes out clean. Set as side to cool completely. (Optional: serve with the rum whipped cream.)
"I really like this recipe because it feels really homemade and my cousin has been making this recipe for as long as i can remember." Lauren Pakravan '17
Leave a Comment