Behind the Scenes of The 39 Steps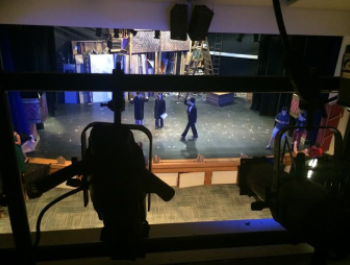 Samantha Behar
Staff Writer
Anyone can see what's happening on stage in The 39 Steps, but have you ever wondered what's happening behind the curtain? There are many Milken students involved in the production who are not actors. Rather, they are the ones who bring the production to life, working on lighting, costumes, directing, and sound. Meet the students working behind the scenes!

Assistant Director: Liberty Fuchs (16')
As Assistant Director, Liberty Fuchs has been involved in the production from the start. This will be her first time working behind the scenes as opposed to on-stage, where she has frequently been cast as a lead. Fuchs has been helping Mr. Robert Menna, Director of Performing Arts,  make casting decisions and observe the actors. She also makes suggestions to Menna about the play.
Follow-spot Operators: Marcus Bernstein (18'), Navid Rod (17') and Jack Wagner (18')
The follow-spot operators are responsible for following specific actors with spotlights throughout the play.
Sound Operator: Logan Shalit (18')
It is Logan Shalit's job as sound operator to play each sound cue at the appropriate time in the show. With over 200 sound cues, this job is harder than it seems. Shalit must multitask throughout the entire play because he needs to pay attention to the show while simultaneously making sure that the sound is loaded and audible.
Stage Manager: Noam Fields- Meyer (16')
As stage manager, Noam Fields- Meyer has many responsibilities. He calls over 300 light and sound cues during the duration of the show, which is no walk in the park. Fields-Meyer always needs to be on his feet. It is his job to tell the sound operator when to play his cues, and the people working on lighting when the next cue is.

Costume Crew- Samantha Behar (17'), Naomi Pearl (17'), Clarissa Brock (18') and Simoneta Benisty (17')

The costume crew is in charge of "pre-show help" and helping with quick changes. This involves getting everyone into costume, doing makeup, and hair and getting the cast changed and cleaned in dressing rooms. There is even one change that requires the costume crew to put a knife in a girl's back in under ten seconds!

Light Board Operator: Yonina Brenner (16')

As light board operator, Yonina Brenner constantly needs listen to the stage manager and make sure to call the right light cues. There are a couple of scenes that are very quick, so Brenner has to call the cues visually.
Backstage Crew Members: Jared Hasen-Klein (18'), Kyle Goldman (17'), Sarah Mandel (15')
The backstage crew is responsible for moving sets during the show. Whenever there is a scene change, they must change the set and set up props needed for the next scene. The backstage crew needs to work at a fast pace during blackouts, and always pay attention to what is happening in the show.
Come see The 39 Steps on Sunday, November 22nd and support the actors and amazing crew!

Leave a Comment