Music Review: Azealia Banks' Broke with Expensive Taste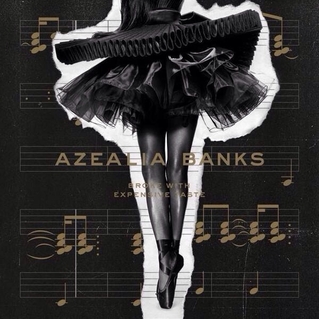 Sam Rosenberg
Sports Editor
Among the diverse palette of female hip hop artists, 23-year-old Harlem native Azealia Banks is the cream of the crop. Though she may not be as well-known as megastars Iggy Azalea and Nicki Minaj, Banks embodies the grittiness, conviction, and prowess of a female rapper and then some. Having received critical acclaim for her stellar bouncy jam "212," Banks was already a top-selling artist in the making. Vulgar yet charismatic, Banks personifies the ethos of American culture and feminism in hip hop through her crafty lyrics and experimental production. She can also sing just as well as she can rap, especially on her cover songs for indie bands The Strokes and Interpol.
In the peak of her career in 2012, Banks announced her debut studio record Broke with Expensive Taste. However, due to several conflicts with her label Interscope Records, Broke with Expensive Taste was delayed indefinitely. Despite this setback, Banks strayed from obscurity, releasing two EPs (1991 and Fantasea) and a string of singles to keep her afloat in the midst of her album's dormancy. Now, after two long years,  Broke with Expensive Taste was finally made available to the public through an unexpected surprise announcement a la Beyoncé. It's safe to say that even with a lack of continuity, Banks still brings a lot to the table.
When listening to Broke with Expensive Taste, it's crazy to think that the works of rappers such as Azalea and Minaj are much more commercially successful than Banks. When juxtaposed, Broke with Expensive Taste is more potent, intricate, and ripe than anything Iggy or Nicki have ever made, even with their breakthrough songs "Fancy" and "Super Bass," respectively. Bolstered by a relentless energy and a distinct sound, Broke with Expensive Taste does itself justice as a bravura debut from Azealia Banks.
Even though old tracks appear on the album, such as "212" and Fantasea's "Luxury," Banks maintains a freshness that is undoubtedly commendable. Using a variety of genres, Banks gets aggressive on the hardcore, witch-hop jam "Yung Rapunxel," seductive on the murky "Heavy Metal and Reflective," and funky on the trap-tinged "BBD." Even on atypical tracks, such as the EDM-hip-hop jingle "Ice Princess," the house-infused "Chasing Time," and the glitchy groove "Soda," Banks' slick rat-tats and vocal ability are uncanny. She effectively blends themes of love and self-empowerment into a whirlwind of colorful synths and wobbling bass.
On Broke with Expensive Taste, Banks is also able to morph from her darker, brasher self into a much more lighthearted persona one song after the other. Following the tropical opener "Idle Delilah" and the enchanting "Gimme a Chance," she shifts from her innocuous falsetto to her uniquely smooth rapping on the mysterious "Desperado" and the edgy "JFK." But towards the end, she makes another abrupt turn on the unabashedly silly "Nude Beach a Go-Go." Though brief and peculiar, "Nude Beach a Go-Go" is one of the album's most likable songs, as art pop musician Ariel Pink's production invigorates Banks' sweet croon. Despite its stark contrast to the rest of the album, "Nude Beach a Go-Go" is a fair reminder that Banks doesn't take herself too seriously, making the song a breath of fresh air from a bold and dynamic album.
Overall, Broke with Expensive Taste proves that Azealia Banks is a natural when it comes to hip hop. But, although she may be musically adept, her ego and irreverent behavior has caused several online tirades to erupt with other celebrities, from Perez Hilton to Disclosure to Eminem. Regardless of her antics, Broke with Expensive Taste clearly cements Banks as a potential superstar and if all goes well, she could shatter mainstream barriers.
Grade: A
Leave a Comment