Dual Winners for "Name the New Lit Mag" Contest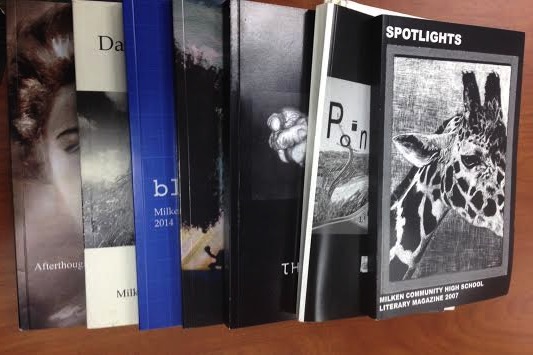 Jennifer Clemens
Staff Writer
Congratulations to Shaked Salem '17 and Sammy Stoltzenbach '16 for coming up with the winning title submission:
BETWEEN THE LINES
This winning title was chosen from nearly 200 entries, which were submitted by more than 60 Milken students. Between the Lines was ultimately selected because it encompasses both the literary and visual art content of the journal, contains a number of possible interpretations, and lasty, because it embodies a timeless quality.
Both Salem and Stolzenbach will be awarded Amazon gift cards, and will be cited in articles as well as announcements in The Roar, The Milken Honey, and The Milken Messenger. Additionally, they will be credited in the premiere 2015 edition of Between the Lines, and officially recognized at this year's Creative Writing Evening of Celebration .
The next step of the process is transforming this new title (Between the Lines: The Milken Journal of Arts and Letters) into a student created art piece that will grace the cover of the premiere edition.The winning cover will display the words "Between the Lines" in a creative way, and will showcase the chosen student's artistic talent for the entire Milken community.
To submit artwork for consideration, please send digital copies to Ms. Mansfield ([email protected]) before Wednesday December 3, 2014.
Please subject the email as follows: Between the Lines Cover Art Contest Submission
Mansfield will forward the piece to the art department to be "juried" objectively.
Leave a Comment