Wildcats Dominate in 4th Annual Homecoming
Sawyer Kroll and Jordan Brenner
Staff Writers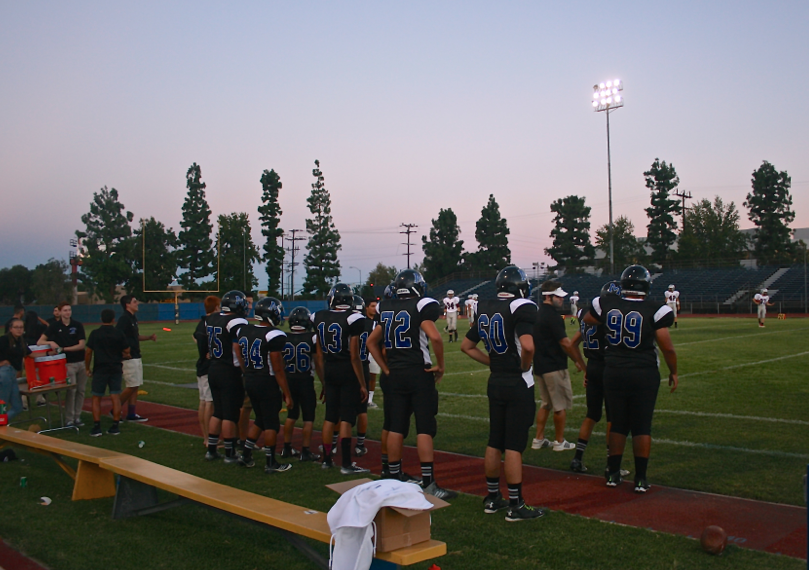 Last Thursday, Milken students piled in the stands at Birmingham High School for the Wildcats' fourth annual homecoming game and left the game feeling proud of their victorious football team.
Despite Villanova's strong offense, the Milken varsity football team (6-2) defeated the Villanova Prep Wildcats (2-6). The impressive 64-43 win catapults Milken into the playoffs, proving that Milken are the stronger Wildcats. Milken's powerful win was led by running back Jake Fleshner '15, who scored 5 touchdowns and dominated the game.
"He's a kid who's absolutely never willing to give up and is always there to motivate the team," said Stevie Gordon '17, "He's put up ridiculous performances that have lead the team to victory."
In the first quarter, Villanova Prep had a 14-6 lead against the powerful Wildcat offense. However, soon after, the Wildcats erupted for 22 points in the second quarter led by an incredible 80-yard kickoff return by Fleshner. The Wildcats did not stop there, as they scored another 22 points in the 3rd quarter.
The most exciting play of the game took place in the third quarter on a two point conversion. Fleshner reversed fields, breaking numerous tackles and waltzing into the end zone.
Despite this, the Milken Wildcats defense was substandard, as they gave up a sizable 43 points. However, the dominant Wildcats offense made up for their defense's errors. While Fleshner scored the bulk of the points, Slater Girocco '15 and Kyle Goldman '17 also contributed to the cause.
"I have been playing football for 8 years and I've always waited for that moment," Goldman said, "To score in front of the whole school made it that much better."
Milken students came an hour and a half early to experience the first ever Homecoming carnival. They had the chance to play games, hang out, and even soak teachers in a dunk tank.
The Milken football team, who made the playoffs for the first time in its existence, looks forward to the postseason.
"I'm really looking forward to playoffs," Goldman said, "Hopefully, we will make a name for ourselves and go pretty far."
Leave a Comment