What's The Sitch, Milken? October Edition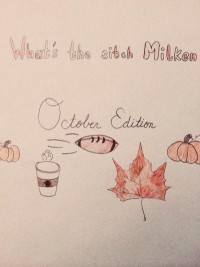 Natallie Mashian
Life Editor
The follow are the events occurring in the month of October at Milken.
Holidays
One of the many privileges of going to a Jewish school is that we observe all the Jewish holidays including, Yom Kippur, Sukkot, Shemini Atzeret, and Simchat Torah. This means that we get extra long weekends, great for taking a break from the busy first months of school.
When: 10/4, 10/9, 10/10, 10/16, 10/17
Spirit Week
Get ready to dress up for Milken's second annual sprit week. The three day event will include themes that are still being determined, but ends on Thursday with a pep rally that will include the competition for our new mascot and a video from the football team
When: 10/21,10/22, 10/23,
Homecoming
Milken's much anticipated homecoming game is planned for the end of the month. The game, which will be accompanied by a carnival, will be held at Birmingham High School and will feature a performance by Milken's dance team and a raffle.
When: 10/23
Leave a Comment