Q+A with Mr. Lawrence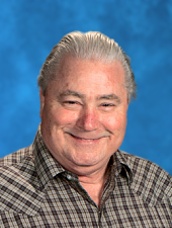 Jordana Gotlieb
Staff Writer
The Q&A – one student, two teachers, each month. This month I sat down with Milken's most knowledgeable history teacher, Mr. Lawrence.
What would you be doing if you weren't a teacher?
I'd be a Park Service Ranger.
Where is the most interesting place you've ever visited? why?
Probably the Dead Sea in Israel. Its super salty water makes it difficult to move around and its the lowest altitude in the world.
What made you want to become a teacher?
I liked all my teachers when I was a student and I had a good time at school. I like learning and as a teacher I learn things everyday. I enjoy watching students achieve. I also enjoy watching people grow in maturity and mental capacity; it's a hoot.
What are you scared of?
Bumble bees with big stingers. When I was seven I got stung on the elbow.
Who is your celebrity crush?
Scarlett Johansson
If you were stuck on an island what 5 things would you bring with you?
Scarlett Johansson and who cares about the other 4.
Any secret talents or hobbies?
I play the drums, I can imitate strange noises and barn sounds, and I can make a flower from a paper napkin.
First/Favorite concert you went to?
The first concert I went to was with my mom and dad. I saw Curb Albert and the Tijuana Brass in middle school. My favorite concert I ever went to was Stephen Stills.
What is your favorite movie? Why?
"Little Big Man" because it was a fictionalized story of the battle of "Little Big Horn."
Current favorite song?
California Girls by the Beach Boys.
Favorite high school memory?
Playing in a Rock n' Roll band with my classmates. We were called "Gravy."
Most embarrassing high school memory?
I used to play baseball and I was in the outfield. I went to reach for the ball and it hit me in between the eyes. It broke my glasses and I had 2 black eyes for weeks.
Movie you've seen most:
"Little Big Man," "Where Eagles Dare," and "Patent."
One thing I can't live without:
Hope
What you wanted to be at age 10:
Fireman
Student pet peeve:
Students with lame excuses of why they are late or didn't study.
Procrastination technique:
I work best under time pressure. I tell myself I have to do something in a certain amount of time in order to get what I need done.
Favorite thing about being a teacher:
I enjoy seeing who wants to learn and whom are happy. I love making history no mystery.
Movie star you wish you could have taken to prom:
Raquel Welch
Funniest word (English, or even better, in another language):
Pickles or anything that begins with 'P'. Pleased as pickles.
Favorite Milken Trend:
Black and white converse shoes. I used to wear them in the 4th grade and then when I went to high school people were too cool to wear them.
Where do you sit at lunch:
In the teacher work room and I always pick up my mess unlike some students.
If you could define yourself as a fruit, what would it be:
A peach
What historical figure do you identify most with:
John Salk, Thomas Jefferson, Abraham Lincoln, Jimmy Carter
Starbucks or Coffee Bean:
Starbucks. My favorite drink is a Skinny Mocha, no whip.
Explain your favorite type of weather:
California weather, it's like a Mediterranean climate.
If you had to leave America, where would you go:
I would go to Southeast Asia. I've been there and everyone is so nice.
Bieber or Timberlake:
I hate them both. But I guess Timberlake is better than Bieber.
Favorite band:
Beach Boys
What is your guilty pleasure:
Homemade Chocolate Chip Toll House Cookies
Describe Milken in one word:
Achievement
Leave a Comment