King of Broken Bats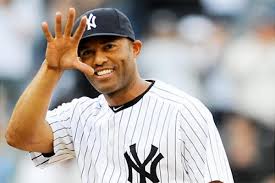 Jordan Kalman
Contributing Writer
He's the king of broken bats. In his last series at Minnesota, the Twins made a rocking chair of broken bats to honor him. Insiders will know immediately. But what about you? No? All right then, three strikes and you're out. Let's start with a little background. At first, it will be hard, but the facts will help make it easier. Number one: This guy received his first leather glove when he was 12 years old. As a child, he was involved with dangerous people. As a teenager, he worked on a boat with his father and uncle. When his uncle died on that fishing boat, he decided at age 19 to leave Panama. By the time he was 20, he was playing in the minor leagues. He was a starter, but later went to the bullpen. Have you guessed yet?
Hint number two: He was an All Star in 13 of his seasons, and dominated for 28 years until he retired in 2013. He won the American League Closer of the Year five times. He won five World Series titles and was a huge contributor to each championship.
This may be the give away: When his team won the World Series in 1999, he was named Most Valuable Player. His career Earned Run Average is 2.21: the lowest of any pitcher (with a minimum 1000 innings).  His number, 42, was once worn by Jackie Robinson and will never be worn again. Haven't guessed yet? Then these clues will be a gift to you. He led the American League in saves for three years. But probably the most impressive accolade is that he has garnered the most recorded saves ever in Major League Baseball — a whopping 652. His future Hall of Fame career was pretty much built on one pitch: the cutter. Even when batters knew that he would only throw cutters, they just couldn't hit them. It is amazing that he was able to pitch so effectively until he retired at age 43.
This player is a living legend. His name is Mariano Rivera. Insiders know, but everyone else should too: Think of closers and think Mariano Rivera. No doubt, he will be a first ballot Hall of Famer as soon as he's eligible, but he will also be remembered equally for his classy attitude. When he was warming up on the mound before his last game at Yankee Stadium, everyone (including the opposing team) gave him a standing ovation. Mariano threw four outs without giving up a run or a hit that day. When it was time to take him out of the game, his two closest teammates, Derek Jeter and Andy Pettitte, acted as team managers to escort him out of the game. The whole crowd at Yankee stadium rose to their feet to applaud. This lasted over six minutes. As Jeter and Pettitte embraced him, the king of broken bats broke down in their arms and cried.
Leave a Comment