The Last Hoorah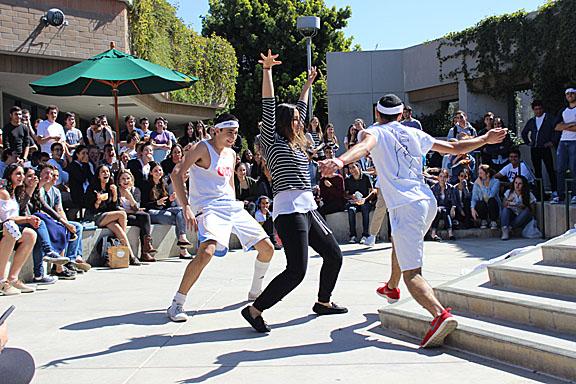 Britt Jacobson and Leeat Elkayam
Staff Writers
Senior Domination was at an all-time high at Color Wars last week. Each grade brought their own pride and gave it their all. Here is a recap of the fierce competition
(Video courtesy of Jordana Gotlieb)
Tuesday March 11 marked the opening ceremony Color Wars. Each grade assembled a team of their best basketball players to compete in games. Two games were going on simultaneously on the big court: one side featured a battle between seniors and freshmen, while the sophomores took on the juniors on the other side. The seniors and juniors came out victorious. The two teams then proceeded to play the final game, where the juniors ultimately prevailed and won the first round of Color Wars.
On Wednesday, Color Wars continued with the lip-syncing competition judged by math teachers Jonathan Raup and Monica Daranyi. The three songs that were selected for the lip-sync were "Wannabe" by Spice Girls, "Friday" by Rebecca Black, and "Happy" by Pharrell Williams.
Following the lip-syncing competition, the senior/junior rivalry grew on Thursday with a relay race. Contestants had to do a water balloon toss, then pass an orange with their necks, and plank while their partner did 50 jumping jacks. All six members of each grade's team then had to form a Jewish star with their bodies. The juniors won once again, followed by the seniors, freshmen, and then the sophomores. However, their winning streak soon ended with a second water balloon toss against the seniors. It was an intense round, but eventually Andrew Laron '14 and Noah Wallace '14 led the seniors to their triumph.
Friday brought the final and highly anticipated event of Color Wars: the costume contest. Some honorable mentions include Slater Girocco '15 and Ari Wininger '15, who dressed as two characters from Zoolander; Josh Mehdyzadeh '15 and Renee Mousazadeh '15 dressed as the infamous Kanye West and Kim Kardashian, featuring a cameo appearance by baby North; and Eli Eshagian, who dressed up as our own Rabbi Yardeni Funk. As for the teachers, the English department dressed as the flamboyant citizens of The Hunger Games. Steven Ashoori '14 and Dorian Aftalion '14, who dressed as IHOP workers, were  declared the best dressed by Rabbi BK.
Leave a Comment