MORAN VS FLIER: The Epic Showdown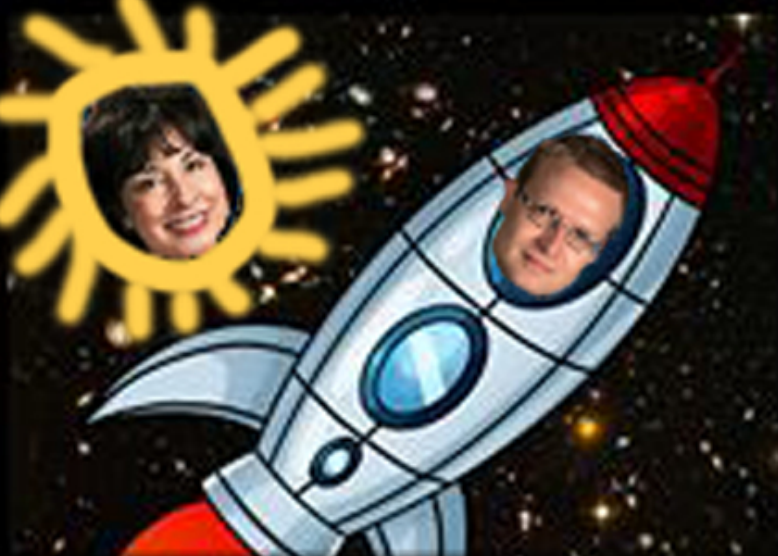 Jordan Brenner and Sawyer Kroll with Justin Leff
Founders of the official Thomas Moran Fan Club
Throughout the past few months, serious conflicts between Ms. Elyse Flier, social science teacher, and Mr. Thomas Moran, English teacher, have arisen. Both honors teachers, they are considered the hardest graders for freshmen (no offense, Dr. Scoville).
Earlier in his teaching days, Thomas, widely known as one of the most ruthless men at school, introduced a ceremony to turn-in essays. He would play famous opera masterpiece, "O Fortuna", as his depressed students handed in their papers, knowing that the best grade they could get was a C-.
However, it was a fateful Friday afternoon when Elyse climbed upstairs from her daily dose of steroids and stole the sacred turning-in ceremony and played "O Fortuna" for her students.
Enraged, Thomas hurried to his spaceship. After plotting possible courses of action, Thomas decided that a face-off with Elyse was the best way to ensure that the song would remain Tommy's forever (he decided that world domination will have to wait).
Flier has been training hard and sticking to her intense diet, which consists of PETDs (Performance Enhancing Teaching Drugs), ice cubes, and gefilte fish. That being said, it may be difficult to defeat T-Man because it is widely believed that he is immortal. There is well-supported evidence that he has already lived two other lives, one as a WWI fighter pilot and one as a string bean.
Additionally, our sources tell us that it was indeed Thomas who wrote "O Fortuna" in the year 1602.
In preparation for the face-off, To-Mo has been catching up on binge-watching Game of Thrones, bullying little boys between the ages of 6 and 10, and failing all of the students in his classes.
Moran is the slight favorite in this fight with the odds at 5/3. The fight is set for pay-per-view on May 18 and will take place at the MGM Grand Hotel and Casino in Las Vegas in a Hunger Games-style arena. The winner of this match will not only receive eternal pride, but will also be able to claim "O Fortuna" once and for all.
View Comments (5)