Weisserman or Weisserduck?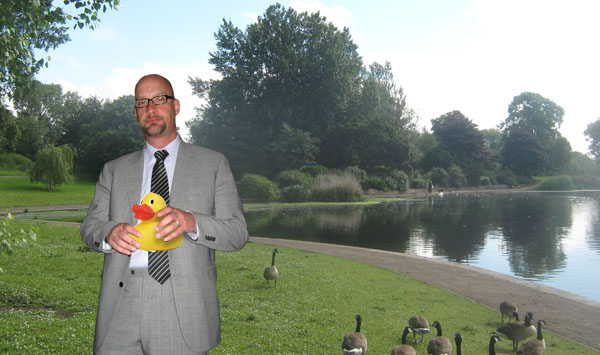 Samantha Suman
News Editor
This past weekend, multiple reports have stated that a Mr. Gary Weisserman of Milken Community Schools was seen stealing a family of ducks out of Balboa Park. Caught by city authorities, Weisserman was forced to return the ducks back to their home in the pond.
"I was just walking my dog when I spotted a really tall man reaching into the pond of ducks," Justin Kroll '14 said. "I could have swore that it was Mr. Weisserman, but I tried not to stare."
The whole incident was captured on tape, where Weisserman was reported to have said "I know no one else does, but I understand all of you. Let me help you!" Recent buzz has suggested that the city park might press charges for trespassing. When asked about the validity of the situation, Weisserman refused to comment.
"The faculty as a whole is very concerned about Milken's esteemed reputation. To be honest, we are kind of embarrassed about this whole situation. We hope that this doesn't impact our admissions for next year," Dr. Kimberly Schwartz, Upper School Principal, said.
Parents have expressed their concerns of Weisserman's reliability, feeling that he has "lost it," and that he is no longer suited to represent the Milken community. The MPA, Milken's Parent Association, will come to a decision regarding Weisserman's position as Head of School by the end of this month.
"I can't believe that this happened. He told us that he was going to a meeting! I wonder how long this has been going on…" Weiserman's son, Drew Weisserman, said.
Recognizing that he has a problem, Weisserman is currently enrolled in DA, Duckacholic's Anonymous.
Leave a Comment