Student's Short Story Published by Antioch University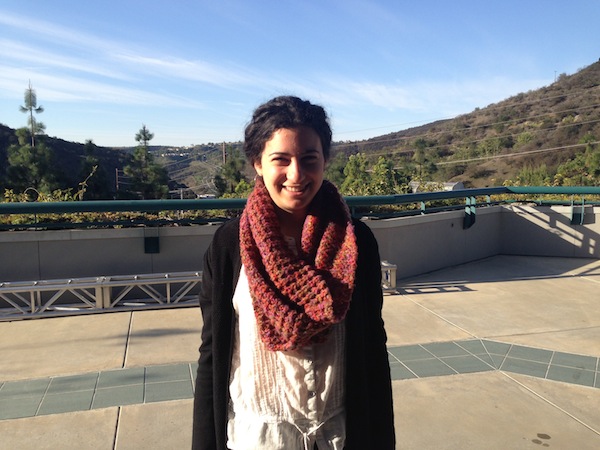 Jodi Marcus
News Editor
With a natural affinity for wordplay, Alison Rollman '14 has found much success in her young writing career. One of Rollman's pieces, "The Feeling of Now," was recently published by Lunch Ticket, a literary magazine run by Antioch University Los Angeles students.
"'The Feeling of Now' is somewhat of a prose poem rather than a typical story – it isn't driven by plot so much as it is by a consistent feeling. I tried to illustrate the nuanced, conflicted emotions that are typical of teenagers and young adults. [The protagonist who runs away from home], struggles, like we all do, with getting out of the endless stream of thoughts and fears in her head and embracing the moment," Rollman shared.
Rollman has always had a passion for portraying emotion through language. "I've always loved writing. Even when I'm not writing a 'creative' piece, I love rearranging words and playing with sentences," Rollman explained.
She didn't take her talent seriously until taking Ms. Melody Mansfield's Honors Study of Poetry class in the spring of her junior year. The class had a profound influence on Rollman and she was inspired to further hone her craft at the California State Summer School for the Arts last summer.
Until this fall, Rollman had never explored fictional writing. "I'd always been much more into poetry than fiction. I was a bit scared of fiction, actually," Rollman divulged.
Nonetheless, she caught on quickly and mastered the genre. "Alison always brings an acute sensitivity to language to everything she does. She found a way to use her poetic style even while telling a story," Mansfield commented.
This was not Rollman's first time being published. Rollman has had six pieces published, an impressive feat for someone who began reaching out to publishers only a few months ago.
When asked what inspires her pieces, Rollman responded, "Oftentimes, a story or poem comes out of a feeling rather than a concrete piece of inspiration. I write to get my feelings out, to express something that I've been noticing or thinking about."
Alison's abundance of accomplishments is no accident. Her hard work and dedication to creative writing have established her as a literary force to be reckoned with.
"Alison took the time to write clear and professionally worded cover letters when sending out her work–a skill that probably helped editors take her work seriously," Mansfield remarked. "Above all, I suspect it is the passion Alison brings to everything she writes that catches the attention of editors, as it does all of us."
You can read Alison's published work here:
http://yareview.net/2013/11/a-poet-to-her-poetry-a-heated-teakettle/
http://brickrhetoric.org/tag/alison-rollman/
http://mygreystone.wordpress.com/2013/09/25/monologue-of-a-carrot-by-alison-rollman/
http://mygreystone.wordpress.com/2013/09/25/ask-me-by-alison-rollman/?relatedposts_exclude=1473
http://mygreystone.wordpress.com/2013/09/25/relief-by-alison-rollman/?relatedposts_exclude=1477
http://mygreystone.wordpress.com/2013/09/25/the-little-kids-laugh-by-alison-rollman/
Leave a Comment