Spotlight Scientist: Milana Bochkur Dratver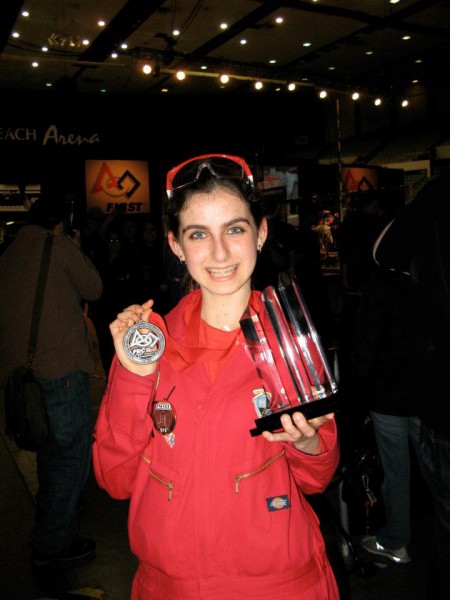 Shani Erdman
Staff Writer
Out of nearly 1,800 contestants, Milana Bochkur Dratver '14 was named a semi-finalist of the 2014 Intel Science Talent Search (Intel STS). Bockhur Dratver was selected from a pool of contestants hailing from 489 U.S. high-schools, and seven high schools overseas. She is one of four Milken seniors to achieve this accomplishment.
Intel STS is a distinguishd program in which only the brightest of high school seniors compete to create innovative research projects. Their projects are presented to nationally recognized, professional scientists.
Milana's 20-page semi-finalist worthy research paper was titled, "Radiation-Induced Reprogramming of Glioma Cells into Glioma Stem Cells." It elucidated that brain cancer cells can be reprogrammed into brain cancer stem cells.
"I found that brain cancer cells could be reprogrammed into cancer stem cells that resist radiation therapy and are able to form new tumors. After that, I tried to find out why that was happening. I explored various protein pathways and found that if you inhibit certain ones, you can diminish this reprogramming phenomenon," Bochkur Dratver said.
Last summer, Bochkur Dratver co-authored a research study titled, "Radiation-Induced Notch Signaling in Breast Cancer Stem Cells," which was published in the International Journal of Radiation Oncology.
Bockur Dratver is also co-captain of Milken's robotics team, and helped lead the MilkenKnights to a first place victory at the 2013 FRC LA Regionals.
A member of the 2013 Conrad Spirit of Innovation team, Bochkur Dratver helped develop a product that can potentially provide radiation protection for individuals planning a future mission to Mars.
"We wanted to make a shielding to protect people from unhealthy levels of radiation, so a manned trip to Mars would be possible," Bochkur Dratver said.
In addition to her many accomplishments, Bochkur Dratver is captain of the Los Angeles Department of Water and Power Science Bowl, and is currently enrolled in six AP courses.
When asked one thing that she couldn't do, Bochkur Dratver answered, "I can't sing if my life depended on it."
Leave a Comment