Creating connections: The Global Beit Midrash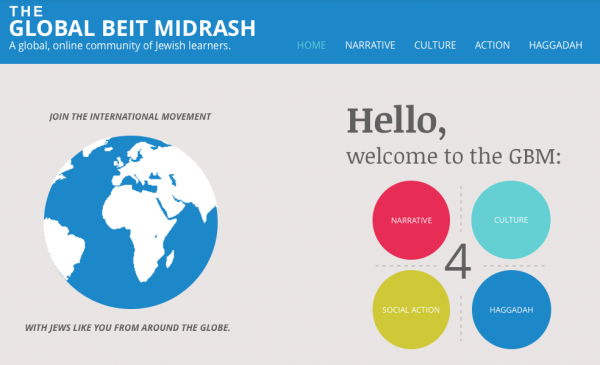 Noa Kattler Kupetz
Editor-in-Chief
Milken's large vision aims to educate students academically, ethically, and spiritually. Rabbi Gordon Bernat-Kunin, Rabbinic Director, began brainstorming a platform to expand the school's mission of reflection and action to the greater Jewish community.
In 2012, Bernat-Kunin turned to the Beit Midrash Fellowship, a program that provides advanced Jewish text study and conversation to participating ninth and tenth grade students.
Gabriel Kachuck '14, a Beit Midrash fellow, recalls Bernat-Kunin asking his class how they could improve modern Judaism in three major realms; local, interreligious, and global. This spurred many ideas, one of which is still in development.
"We were surprised that there are Jews living around the world that we knew almost nothing about," Kachuck said. From this grew the Global Beit Midrash [GBM], a project designed to engage Jewish teenagers through what Bernat-Kunin calls a "collaborative, project-based, technological interaction."
In simpler terms, the Global Beit Midrash is an online space aimed to foster global Jewish interaction. With the help of Milken's Director of Technology Tom Wadbrook, Noah Mintz '14 has developed a site that includes what the GBM team calls "the four corners." These four integrated projects are film narratives, a teenager Haggadah, social action, and a virtual cultural museum.
There are already student groups in Mexico City and Budapest working on the film project, in which they will document their city's Jewish environment, and post it on the site to share with teens around the world.
"We've learned that a project like this is really good for Jewish day schools. It's pretty much shown us that partnership and experiential learning are the future of Judaism," Kachuck said.
The creators of Global Beit Midrash are now seniors, but their project has gained excitement and participation from younger classmen. There is a team of approximately twenty students that invest lunchtimes to work on creating the site, which they aim to make public by February 2014.
A peek of the Global Beit Midrash website. Photo courtesy of Noah Mintz.
Leave a Comment