Movie review: Anchorman 2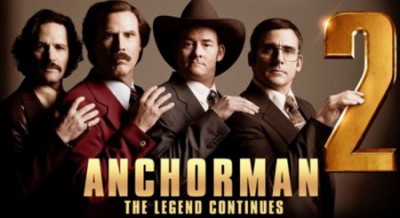 Sam Rosenberg
Staff Writer
Since their first collaboration on Anchorman, director Adam McKay and actor Will Ferrell have transformed the character of Ron Burgundy into something much bigger than a fictional news reporter. With slapstick humor and big budgeted filmmaking, Anchorman has remained a modern day classic, not only because of the instantly quotable lines, but also of Ferrell's committed performance as Ron Burgundy. Over the course of the last few years, it seems as though McKay and Ferrell's hot streak of cinematic comedies (2006's Talladega Nights, 2008's Step Brothers, and 2010's The Other Guys) proved the duo as two of the biggest successes in Hollywood farce today. Now, nine years since the first Anchorman, McKay and Ferrell bring forth the wackiness and vibrancy of Anchorman's characters once again with the franchise's next chapter, Anchorman 2: The Legend Continues.
Although I disliked some aspects of the sequel, I came out of the movie theater much more impressed than I had been with the first movie. Expanding off its predecessor, Anchorman 2 embraces its eccentric characters with a dynamic setup: the jokes are gleefully irreverent, the gags are more consistent, the cameos are crazier, and the action is over-the-top. The story of Anchorman 2 is set in the culturally developing 1980's. Idiosyncratic news reporter Ron Burgundy (Ferrell) and his outlandish San Diego news team (Paul Rudd, David Koechner, and Steve Carell) return to broadcast journalism after receiving jobs for a global news network station in New York City.
In addition to the improvements since the first Anchorman, the many months of Internet hype and heavy marketing for Anchorman 2 have not only attracted more people to watch the film, but have emphatically ingrained the character of Ron Burgundy as a cultural phenomenon.
Though it's a bit overlong and unevenly plotted, Anchorman 2 never seems to runs out of steam, as it grasps almost every opportunity to provoke the audience with moments of inspired comedy and satirical sentimentality. Even if some of Anchorman's gags were repeated in the sequel, 2 feels less like a simplistic rehash and more like an excited exaggeration. Although Anchorman was more hit-or-miss, its plethora of quotable lines and influence on avid moviegoers made in an unexpected hit, which doesn't come nearly as close to Anchorman 2's status.
Despite more consistency in Anchorman 2's jokes, it seemed that the one-liners didn't stick as much as Anchorman's ubiquitous quotes ("That escalated quickly," "60% of the time, it works every time," "I'm kind of a big deal"). Regardless, Anchorman 2 is a real treat for both loyal fans of the franchise and to any moviegoer. It may not currently hold as much influence as its predecessor, but its charm and wit  hold undeniable improvements.
Grade: B+
Recommended: Yes
View Comments (1)