Check-in: The Office of College Counseling & Academic Advising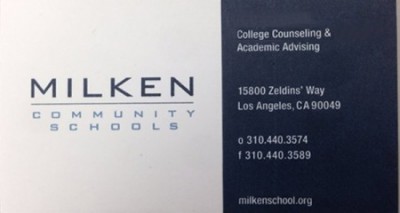 Noah Mintz
Staff Writer
Just as Milken's own synergy-driven club declares, teamwork really does make the dream work.
Announced this past October, first-year Head of School, Mr. Gary Weisserman, and first-year Director of College Counseling, Mr. Ross Mankuta, have, after much discussion, adapted the current 11th and 12th grade higher education hub, into "The Office of College Counseling AND Academic Advising."
This switch, according to an email Weisserman sent to students and parents, "will ensure that each student will be on the right path to fulfilling his or her goals and aspirations today and in the future." Through the continued involvement of advisors and assistant principles under the predominant lead of the college counseling team, both Weisserman and Mankuta believe that students will have wider access to academic mentors.
"College counselors will meet one-on-one with each ninth, tenth, and eleventh grade student to discuss their plans for coursework while at Milken and to address extracurricular opportunities both within and outside of Milken," Weisserman explained. This dramatic change in the academic advising system also gives students greater academic guidance early on in their high school career.
While the transformation may seem subtle to some students, Mankuta believes it will tremendously change Milken's academic dynamic. When discussing the previous academic advising system at Milken, Mankuta said, "I think that there was a vacuum when it came to academic advising in the past. Roles were undefined and unclear, and we found that students were coming to the College Counseling Office anyway for extra verification… that's why we decided to bring it all under one umbrella. Now, students can have a clear vision of what their high school career can look like and understand the impact of their academics on college applications down the road."
The new College Counseling & Academic Advising program will include meetings with predetermined student "cohorts" from each grade. In December, 10th graders will begin meeting, in January, juniors will participate in their usual College Counseling meetings, and in February, freshmen will be introduced to the program.
This integration could not be possible without the guided assistance and dedication of Director of Curriculum and Instruction, Dr. Kimberly Schwartz, Director of Advisory at the Upper School, Ms. Cheryl Cohen, Assistant Principal, Mr. Beau Lindsay, and all faculty advisors.
Leave a Comment