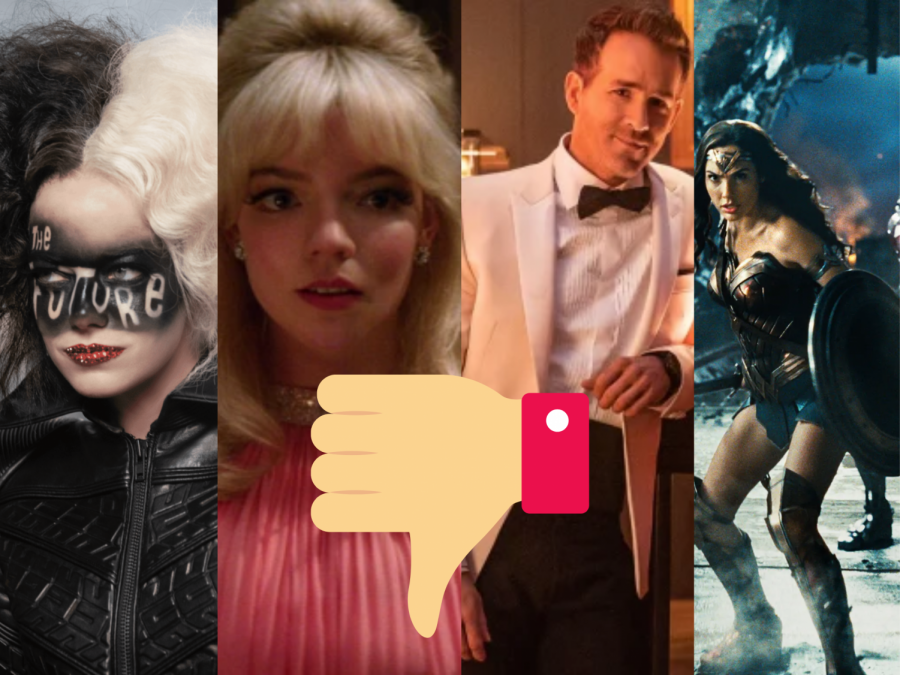 Collage by Micah Green, photos from (in order left to right) Disney, Focus Features, Netflix, HBO Max
For every amazing movie, there is an equally awful one. 2021 saw some great movies like Licorice Pizza and Power of the Dog. But let's be honest, those movies get so much coverage. You don't need to read another article raving about Aunjanue Ellis in King Richard. So, how about the bad movies? Movies no one talked about, except when they were released. Here are the worst movies of 2021:
5. Cruella
This movie is surprisingly low on the list for a film whose protagonist is a future dog murderer. A prequel to popular animated film 101 Dalmatians, Cruella was made as a Cruella De Ville character study, similar to Maleficent. But why did Disney choose Cruella as the subject? There are a plethora of classic Disney villains who committed much less heinous crimes than canicide (dog murder). Unsurprisingly, this is a hill the movie cannot overcome. How could you even justify canicide? However, Cruella is saved from being last on the list mainly because of the charisma of its stars, Emma Stone and Emma Thompson. While their characters are both poorly written and morally reprehensible, Stone and Thompson appear to be having lots of fun in their roles. The movie also has top tier costuming, a must for any movie that is about fashion. But since this movie is in the bottom 5, clearly it has several flaws. It struggles from not having a target audience, due to a PG-13 rating based on a property aimed towards children. It also is overly long and bloated, and provides backstory for little details in 101 Dalmations that most won't even remember. It also suffers from an ironic lack of style during most scenes. The climax of the movie is set at night, and it is both barely visible and visually boring. Overall, Cruella could have been a fine fashion movie, alá Devil Wears Prada if it wasn't centered around a dog murderer.
4. Last Night in Soho

This is a tough movie to criticize. If you had told me 20 minutes before the movie ended that it would be in my bottom five for the year, I would have laughed at you. However, those 20 minutes were terrible, and not in a way that merely made me detest the ending; it retroactively makes the rest of the movie worse, and I couldn't bring myself to call it a good movie. I won't spoil it for you, but I will say that it made Last Night in Soho one of the most disappointing movies of the year. In terms of qualities, this movie has a lot of good stuff. It looks excellent, has great music, and the ballroom scene is incredible, requiring some really impressive practical effects. My only big problem is the ending. It is too big to ignore.
3. Red Notice
 
I believe the most apt description of Red Notice is Netflix's: "An action-adventure movie starring Ryan Reynolds, Dwyane Johnson and Gal Gadot." That's the entire movie. It plays like a fanfic starring Deadpool, Wonder Woman, and Luke Hobbs. If you've seen at least one movie starring each of the big trio, you'll get the gist. As for positives? The final chase scene was a well put together action sequence, but it was essentially a carbon replica of the chase scene in the warehouse from Indiana Jones and the Kingdom of the Crystal Skull. When your one positive is a comparison to The Crystal Skull, you know you've made a bad movie.
2. Everybody's Talking About Jamie

Based on a popular Broadway musical, Everybody's Talking About Jamie might be one of the worst scored musicals of recent years. Besides the 'opening' number, which doesn't even happen until twenty minutes in, I can't think of one other song I would consider good. The star, Max Harwood, is a lot in the role. He's very loud, and he's moving around a lot, but there's very little meaning to it.  When he confronts his dad, he's certainly doing a lot of acting, though it isn't very good. One positive for this movie: Richard E. Grant. I'm a fan of his, so I'm glad he, at least, was a silver lining in this dark, dark, cloud. 
And last, and also least:
1. Zach Snyder's Justice League
While Zach Snyder's Justice League is a director's cut of a movie that came out in 2017, it includes more than enough new material to count as a "new movie." Keep in mind, when I say more than enough, I mean WAY more than enough. The movie is four hours long, and it's not interesting enough to compensate for that. Even the visuals aren't interesting. The movie is dark, and bleak, and so is the story. It's classic Zack Snyder fare, but when Zack Snyder fare is a slow dreary movie with lots of slow motion and angry characters, that isn't a positive.. Now, there are some improvements on the original movie. Cyborg is a much better character, which is no surprise considering the reports of racism on the original movie set. There aren't as many corny jokes, as Snyder seemed to remove all of Joss Whedon's quippy Marvel-style dialogue. But it doesn't matter. The only movies that should be four hours are ones with little to no dead time, and this has way too much of it.